Providing guest wireless access can be a very important customer task. The need to provide a high level of service, for example, when hosting events with a large number of visitors (stadiums, exhibitions, conventions), can require serious efforts from the IT department to maintain the wireless network. It is possible to quickly eliminate the malfunction, or even better – to anticipate it in advance and remove possible causes, only with the help of proactive monitoring tools that will work completely independently of the rest of the infrastructure.
WNAM Quality of Wireless is a software and hardware complex for active and independent monitoring of the status of your wireless network. It consists of a hardware sensor, the WNAM QoW Sensor, and the cloud-based WNAM QoW Server software that manages the fleet of such sensors.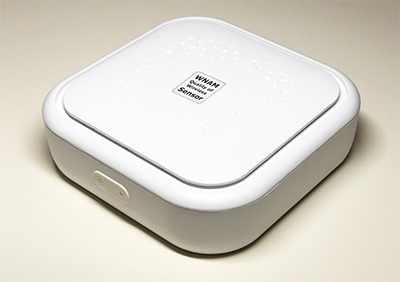 The sensor on a schedule actively monitors your wireless network – scans the state of the air, connects to a wireless access point, if necessary, checks the full cycle of guest Wi-Fi authorization in your network, measures the speed of interaction with the Internet and a number of other parameters. If any malfunction or degradation of the connection parameters is detected, you are automatically notified of this even before your users or customers discover the problem.
The sensor is available for rent for the duration of an important event at your place, or it can be purchased as a hardware device for permanent use.
The server manages the operation of the sensors: registration, sending task schedules to them, the code for checking Wi-Fi instructions, receiving and processing measurements, monitoring the correctness of the results and sending you notifications by e-mail and SMS. The server has a convenient web interface. You can use our cloud server in the service mode with a periodic payment, and if you have a significant fleet of sensors, you can install your own server in your network with a perpetual license to use it.
WNAM Quality of Wireless solution measures:
the number of wireless access points, networks in the vicinity of the sensor, the signal level in 2.4 and 5 GHz bands
spectrum busy and noise
speed of establishing connection (association) with the network
full functionality of DHCP, DNS, NAT services, Internet bandwidth
work of the guest Wi-Fi authorization service, including authorization by SMS or call