About
Over last 20 years we master at the junction of telecommunications, networking and software development. Our small, but very experienced company has made a number of projects, i.e. NETAMS 4.0 billing, WNAM Wi-Fi management, ISP managenet, network design and server virtualization. Currently we are looking for international partners to offer our products and services worldwide.
WNAM - Wireless Network Access Manager
There is a law effective in Russia, Belorussia, Kazakhstan and several other countries requiring to obtain and validate some identification before customer is given to a free Wi-Fi access at a public place, i.e. cafe, shopping mall, railway station, cinema, parc etc. This identification could be done with SMS sent to customer's mobile, and code submitted, with some other options (voucher, government ID portals, phone calls etc). Before Wi-Fi access is granted, mobile device traffic shall be redirected to some identity server by means of hotspot - some software solution built-in onto Wi-Fi access point controller or Internet gateway router. The problem is that ALL of commercial hotspots are very limited in what could be done with customer's intercepted session: customization, authentication, advertising, reporting and billing features.

This is where WNAM comes to help.

Wireless Network Access Manager is a specialized, carrier-grade software solution for ISPs and enterprises to work with your Wi-Fi customers and Wi-Fi equipment. It runs following roles:
Customer portal - present identification page, splash page, advertisement to your Wi-Fi guest
Identity engine - allow any possible identification scenario (SMS, Call, Voucher, ID)
Wi-Fi management - natively integrated with 20+ types of Wi-Fi systems, hotspots, network equipment to carefully play role of External Captive Portal
Wi-Fi reporting - process Authentication, Accounting, Netflow to give network operator a solid, multi-view picture of what is going on with your Wi-Fi
Advertising - configure static and dynamic Ads, work with agencies and collect analytics
Billing - allow paid Wi-Fi access
Location - allow to react on customer's device appearance in your network, big data processing
As opposed to some cloud providers, WNAM is designed to install in you network, your infrastructure. Customer data is then all yours. No monthly fees and other dependency. Here is a sample network drawing:

In large-scale deployment, you may use one of supported WLAN controllers, or a central-site router-based hotspot.
From customer's perspective, once connected to your Wi-Fi, he asked to authenticate, enter SMS code, and agree with terms. Next connection requires him to accept terms again; there you can place any advertisement (banner, video, social network "like" button) or even ask to pay for Wi-Fi access session.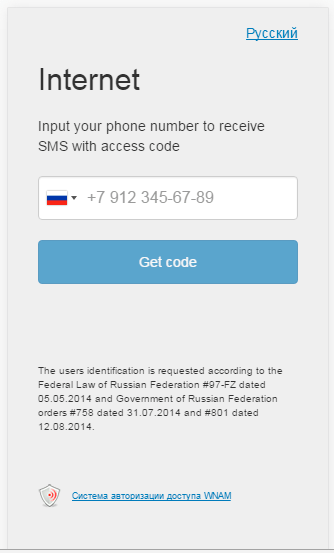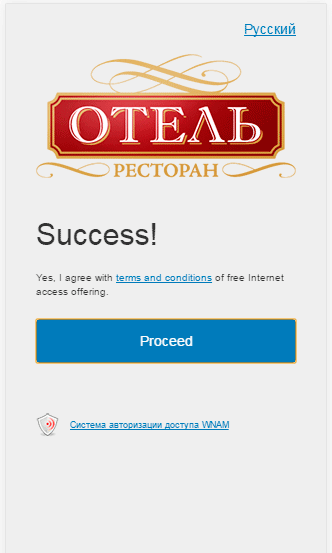 All page templates are customizable in easy (web-based) and expert (html) mode.
WNAM
is scalable, fault-tolerant, run in distributed environment, supports virtualization. It has a rich administrator web interface, and a special interface for location owner to run selected reports and modify allowed settings.
Contacts
You have a big, interesting project where our experience might be useful? Mail us: info@netams.com